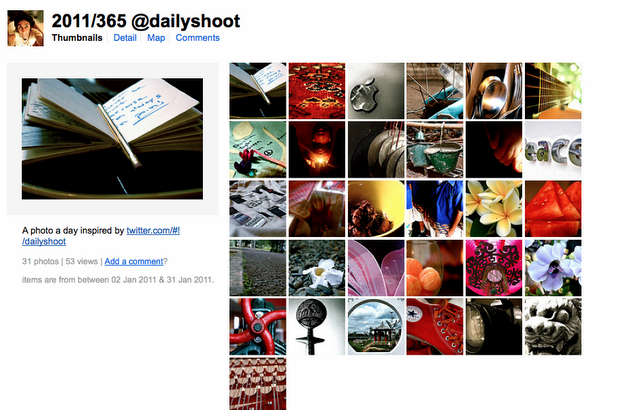 I know teachers tend to throw out mixed messages, "Be open, share. Be careful, be scared." This could be an authentic real world experience to create something beautiful with a larger group of people than those within our immediate community. (I invite other teachers to share this Flickr set and this post to see where it can go. Ask your class to leave poems, stories, haikus, comments anything. Maybe we can write a book, record an album…)
There are many things we can do with the images, the words, the connection. I hope that at least a few of you will share a few ideas in the comments below. I don't know who will respond, but that is the beauty of sharing in whim [1. Bryan's note: this is so the title of the book / album / movie.], if you throw enough out there, occasionally something beautiful will come floating back.
The above photos were shared on Jabiz Raisdana's blog with an invitation to Zach Chase's students to join into the fun with the proposition that if enough comments, poems, phrases and inspiration and were left on the photos, Jabiz would write them into a song that he would share for future mashup, remixes, or…?
What will you do with it? Download it. Remix it. Add your voice to it. Set it to images. Create a video. Rap it. This version is only a draft and is not even close to being "done." Tear it up!
And while I mightn't have "tore it up," or reinvented any of what had previously been created or recorded, I sat at my kitchen counter after work on Friday, donned a set of headphones, and spent the better part of an hour adding my own voice to a project spanning both North American coasts that had gained its initial motivation and impetus from an unmet friend in Jakarta, Indonesia. In kind I offer my own addition to the project in the hopes that it inspires others to lend their own creativity, perspective, and voice to collaborative expression that would have unthinkable even five years ago (to me, anyway), but is today the sort of thing that can be accomplished on a Friday afternoon, between work and dinner.
My contribution:
We've been talking about the benefits – personal and collective – that come with sharing a lot this week in the Talons class. Seeking an elusive objectivity in media and student reflections on the recent tumult in Egypt and across the Middle East, the class has moved past a definition of the (capital 'T') Truth which linearly separates Right & Wrong, or Truth & Lie, to an understanding that we can only know what we might collectively deign in shared exploration, conversation and reflection, and that this process must be ongoing.
This week we blogged, commented, argued, challenged one another, and constructed our own understanding out of the pieces of media, and truths, we could piece together in posts and a collection of quotes spanning student and journalists' words, musical evocations, and the frozen images of photographs from halfway across the world.
Yesterday we distilled some of the more potent aspects of these expressions in a Typewith.me page that we hope to continue to shape, sculpt and share in the coming weeks, as a first experiment in working with the web as not only a research and publishing platform, but collaborative space wherein there are few, if any, limits.
We invite you (Mr. Chase's class, Jabiz' students, and the rest of you out there) to join in this conversation: comment on our blogs, highlight or share some words that resonate with you about the power of the collective and the human will toward freedom, or take the discussion to the next level.
Share, and be vulnerable: it may just be what we're here for.
To let ourselves be seen, deeply seen, vulnerably seen; to love ourselves with our whole hearts, even though there's no guarantee; to practice gratitude and joy in those moments of terror when we're wondering, "Can I love you this much? Can I believe in this this passionately? Can I be this fierce about this, just to be able to stop and instead of catastophizing what might happen just to say, 'I'm just so grateful, because to feel this vulnerable is to feel alive?'"
If it is true, what Liam wrote yesterday, that, "Collective will is the most powerful force in the universe," then we are truly onto something here. Let's keep it going.
Today, Zach Chase writes, looking back on what a week it's been, is the day you jump in and create something.